New research by Deloitte estimates that, in its first year Ontario's new open and regulated igaming market sustained more than 12K full-time equivalent jobsi across the province and contributed nearly $1.6 billion to Ontario's Gross Domestic Product (GDP), including over $900 million in labour incomeii. 
"Over the past year, Ontario's igaming market has been internationally recognized for creating a safe, legal and competitive landscape while supporting the province's economy and displacing the existing unregulated market," said Attorney General Doug Downey. "By driving innovation, creating exciting new opportunities for workers and providing protection and choice for players, this made-in-Ontario market will remain a global leader in this sector." 
The report, Economic Contributions of Ontario's Regulated iGaming Market, looks specifically at the economic benefits to Ontario from the province's recent decision to open an igaming market for regulated companies to offer igaming in Ontario through agreements with iGaming Ontario. 
The report also says that the industry has the potential to grow to support up to 22K full-time equivalent jobs, $4.7 billion in GDP, and over $2.1 billion in government revenue annually by 2031-32. 
"Today's report reveals that the newly regulated igaming market in Ontario is delivering real benefits to every resident of Ontario, whether they play or not," said Dave Forestell, Chair of iGaming Ontario. "The igaming industry is a real economic driver in Ontario. Together, we can help realize our goal of leading the world's best gaming market right here at home."
Projected Full-Time Equivalent Jobs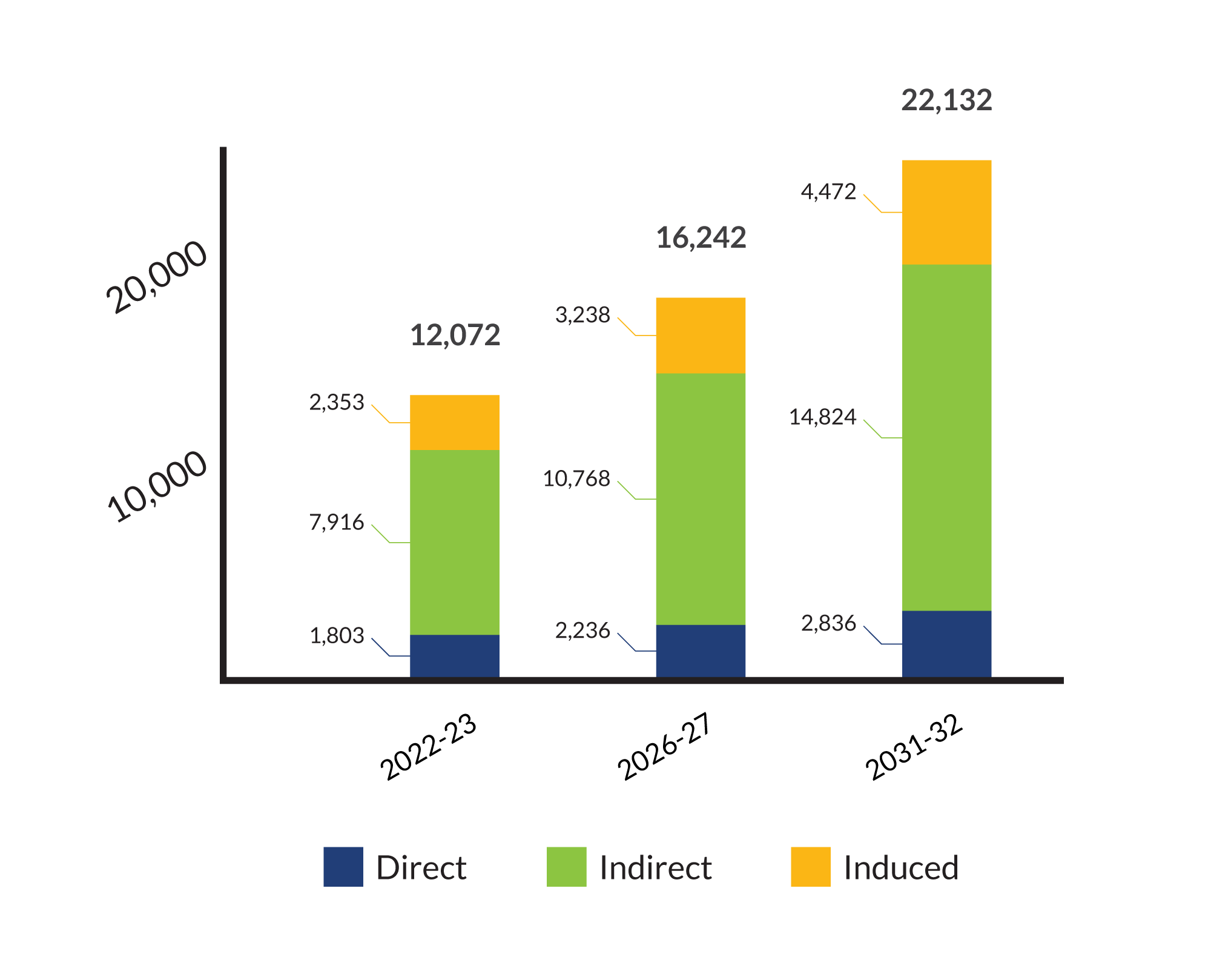 Deloitte's research considers direct, indirect, and induced contributionsiii to Ontario's economy from regulated igaming Operators who have operating agreements with iGaming Ontario. 
Early Evidence that Job Contribution Is Both Highly Skilled and Higher Paid than Average
When looking at the jobs contributed directly by igaming Operators in Ontario, the report also found that employees receive an average of $103K a year in compensation, which is 41% higher than average job compensation across all industries in the province. This is early evidence that the igaming employment base, which generally relies on science, technology, engineering and mathematics (STEM) skillsets, is sustaining and creating demand for highly skilled and productive talent in Ontario.
iGaming in Ontario Contributes Revenues to All Levels of Government
The shift of players from gambling in unregulated igaming websites to regulated ones, as previously reported by the Alcohol and Gaming Commission of Ontario,  not only protects players but also captures a new revenue stream for the province. In this report, Deloitte estimates that provincial government revenueiv in Ontario will grow from about $470 million last year to just under $1.4 billion in 2031-32. In addition, the annual federal government revenuev will grow from an estimated $238 million to $647 million in those years, and revenue to Ontario municipalities will more than double, from $54 million to $115 million.
Projected Government Revenue
Deloitte's report accounts for the 20% igaming revenue share to Ontario, as well as taxes on products and production (e.g., provincial sales taxes and property taxes), corporate income taxes and personal taxes and estimates revenue to municipal, provincial and federal governments. Federal taxes estimates only include federal taxes from the operation of igaming operators and their suppliers in Ontario.
More Quick Facts from the Report
As a measure of industry productivity, the GDP per full-time equivalent job in the Ontario igaming market was estimated at about $171,000 in 2022-23. The report projects this figure to grow to $813,000 in GDP per job in 2031-32.
In 2022-23, the report estimated that approximately $1.14 of GDP was added to the Ontario economy for every dollar spent by igaming operators in operating or capital expenditures. By 2031-32, the report projects this figure to rise to $1.78 of GDP for every dollar spent.
The scope of this report only includes the potential economic contribution of the igaming industry as conducted and managed by iGaming Ontario. It does not contemplate any potential economic benefits associated with igaming offered by OLG.
The analyses are provided as of April 26, 2023 and are informed through data sharing, secondary research and interviews with stakeholders across the igaming ecosystem who provided a perspective on both the Ontario market and observations from other igaming jurisdictions. 
For further information, please contact @email
i  Jobs are counted in terms of full-time equivalent (FTE) positions. FTEs are counted according to their duration – for example, two part-time employees are counted as one FTE if the total time they spent on the job adds up to the number of hours one full-time employee would work in one year.
ii  Labour income represents the total earnings of employees (including those associated with indirect and induced impacts), consisting of wages, salaries, and benefits, as well as supplementary labour income (for example, employer contributions to pension funds and employment insurance).
iii  Direct are jobs in Ontario contributed by regulated igaming operators, indirect are jobs in Ontario contributed by suppliers. Together these amount to about 80% of the estimated job figures. The remainder, "induced," are jobs supported by the spending of wages and salaries earned by employees of igaming operators and the employees of their suppliers.
iv  Government revenue estimates combine the 20% share of gross gaming revenue that iGaming Ontario remits to the province of Ontario with other taxes including taxes on products and production as well as corporate and personal income taxes stimulated by igaming industry operation in Ontario accounting for industry's direct, indirect and induced contributions.  
v  Federal taxes estimates include only federal taxes from the operation of igaming operators and their suppliers in Ontario.